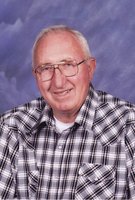 Charles F. "Jack" McFarlin III
Charles F. "Jack" McFarlin III passed away at his home on December 29, 2017. After graduating from Notus High School in 1957, Jack enlisted in the United States Army and was stationed at Bad Kissingen, Germany were he was awarded the Expert Badge (Sub Machine Gun), Marksman Badge, Sharpshooter Badge, and the Good Conduct Medal.
Jack arrived in Othello in 1960 where he met a soda jerk, Sally Lottes. They wed June 2, 1962 and spent 55.5 years loving each other. Jack became a surveyor for the United States Bureau of Reclamation where he spent over 37 years traveling throughout the Columbia Basin and Pacific Northwest. He also serviced his community by heading up the Roller Skating Program, coaching Little League as well as being an umpire for community and school ball of all ages. Jack spent his downtime enjoying the mountains and streams by camping, fishing, and riding trail bikes.
Jack was born to Charles and Agnes McFarlin in Caldwell Idaho, and is survived by his two brothers Denton (Pat) and Lewis; his two children Edward (Carie) and Jacqueline Sue; five grandchildren Jackson (Jessica), Nathaniel (Katrina), Blythe (Alex), Samuel and Katelyn; and great grandchildren Pono, Blake Zakkiera and one on the way.
We will celebrate his life on Friday, January 5, 2018 at Pilgrim Lutheran Church (640 E. Elm, Othello) at 10:00 am with a graveside ceremony and lunch reception to follow.