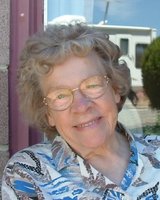 Rosanne F. Hilmes
Rosanne Hilmes, 91, was born April 24, 1927 in Ransom, Kansas to John and Anna (Rossicot) Willour. She attended 12 years of school in Ransom followed by college and teaching elementary school in Hays, Kansas. Her marriage to her childhood sweetheart, Francis (Bud) Hilmes in 1948 led to her to join him in the pursuit of farming in Washington State. The couple moved to Othello, Washington in 1952 and began farming their own land in 1958.

Through the years, their farm, 10 miles southeast of Othello, was home to eight children. Rosanne always believed that children should be happy and often let her work wait while she read or played games with them. Many songs were concocted to the rhythm of the rocking chair while gently rocking one or more children cuddled in her lap.

As the years passed and her children grew, Rosanne was ready to take on another role. She was employed for several years in food service for the Othello School District where she made many new friends.

After Bud's retirement in 1989, they enjoyed traveling much of the United States by car and motorhome. They escaped many cold winters in Othello by traveling South in their motor home to spend enjoyable, sunny days in California or Arizona.

In Othello, Rosanne was a member of Sacred Heart Catholic Church. She recognized her maker in His goodness. She acknowledged a special kinship with all as children of God. Rosanne's wish is that any thoughts of her might be accompanied by a prayer to see her safely in the arms of our Lord.

Rosanne was preceded in death by her husband Francis in 2011, and was the youngest and last surviving sibling of brothers Orville, Wilbur, William, Carl and John Willour; and of sisters Dorothy Foster and Darline Burnette. She is survived by her children: Evanne Hilmes of Othello; Laurie Muhlhauser (Larry) of La Quinta, CA; David Hilmes of Othello; Linda Olson of Bellevue, WA; Dorothy Waters of The Dalles, OR; Christy Pommerer of Broomfield, CO; Tim Hilmes of Richland, WA and Carol Calder (John) of Moses Lake, WA. She is also survived by ten grandchildren: Christian Calzadillas (Lou) West Richland, WA; Scott Cardenas (Lisa) Duvall, WA; Tiffany Cardenas La Quinta, CA; Ryan Pommerer Broomfield, CO; Caitlin Jackson, Rayen and Whitley Hilmes, all of Richland, WA; Melissa (Connor) Lange Spokane Valley, WA; Morgan Calder Spokane, WA and Jordan Calder Moses Lake, WA. She was also blessed with five great-grandchildren, Dylan, Tyler and Riley Cardenas of Duvall, WA and Camden and Brynlee Lange of Spokane Valley, WA.
Monday, December 17, 2018, at the Stevens Funeral Chapel, Othello, WA, a viewing and visitation will be held at 10:00 a.m. with the Celebration of Life to begin at 11:00 a.m. Burial will immediately follow at Bess Hampton Memorial Gardens. You are invited to share your memories with the family at a light luncheon in the lobby of the Nazarene Church, 835 South 10th Avenue, following the burial.
Please visit the website of Stevens Funeral Chapel at stevensfc.com to view her online obituary or to leave a condolences. Thank you.