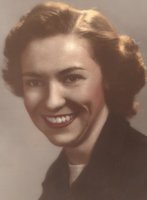 Helen K Baldridge
Helen K. Baldridge of Moses Lake, Wash. passed away July 24, 2019, as the result of a fall and subsequent complications. She was 90.
Born Helen Louise Kear on Oct. 24, 1928, in Clayton, New Mexico, she was the second child of Walter Mack Kear and Hazel Aline (Smith) Kear. Her father was a farmer and trucker, which took the family to the Gladstone, Flora Vista, Farley, and Springer areas of New Mexico.
Growing up in the state's rural northeastern area during the Great Depression and in the Dust Bowl, Helen exhibited from a young age feistiness, determination, humor, kindness, and creativity. She climbed a windmill, chopped wood at age 5 to help her mother cook for a harvest crew, and at 9 hiked into a canyon to cut down and drag back home a pine tree so that the family could have their first Christmas tree.
Helen graduated from Springer High School, where she sang alto in the choir which performed Handel's Messiah on radio. She worked briefly as a doctor's all-around assistant and then for Warder Hardware store.
On Nov. 13, 1950, she married Vernon Ray Baldridge, who grew up in the same area. They made their home in Los Angeles, where Vernon was a construction worker and Helen became a homemaker. She planned and gardened the yard, and assisted with roofing when they built a master wing to the house.
Post-war LA was an exciting place for the young couple, who enjoyed attending movies and travel shows in the classic Hollywood theaters, going to the beach, and camping in national parks. Helen learned various arts and crafts, gardened the large yard, made her own clothes, upholstered furniture, and much more. The couple had two children, Keith and Nadine, for whom she lovingly made elaborate Halloween costumes and instilled a love of books.
In 1966, the family moved to Ashland, Ore., followed by a move in 1968 to Othello, Wash. To help provide for the household, Helen began working outside the home in the mid-1970s, eventually joining Othello's Carnation potato factory where she worked for 25 years. The family enjoyed camping and frequently visiting nearby relatives Russ and Marie Baldridge (of Othello) and their children, Cheryl and Gregg. Helen retired in 1997 and moved with Vernon to Moses Lake, Wash.
She lived a full and rich life, enjoying her family, sewing, embroidery, reading, growing houseplants, outdoor gardening, building miniatures, and helping others. Though not a church member, she had a strong Christian upbringing and faith that sustained her throughout her life.
Helen is preceded in death by her husband, Vernon; and siblings Mildred Kear Gandara Jones, Orville Kear, Ruth Kear Martinez, Ronnie Kear, and infant twins Marvin and Melvin.
Survivors include son Keith Baldridge and his six children, Hannah (Mrs. Jariah Melendez-Brady), Lucas, Elizabeth, Jonathan, Daniel, and Benjamin, all in Tri-Cities, Wash.; daughter Nadine Baldridge in College Place, Wash.; brother Ted Kear of Springer, N.M.; and numerous Kear and Baldridge nieces and nephews.
A graveside service will be held at 10:00 a.m. Saturday, Aug. 17, at Bess Hampton Memorial Gardens, Othello, with the Rev. Bob Luhn presiding. In lieu of flowers, donations may be made in Helen's memory to Othello Community Hospital, 315 N 14th Ave., Othello WA 99344. Arrangements made by Stevens Funeral Home, Othello.